MCD-50
nondestructive wood and veneer moisture meter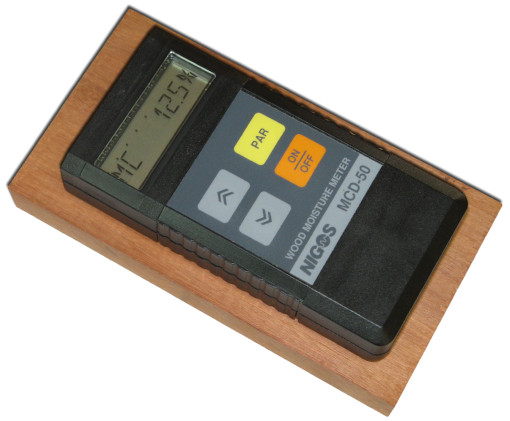 Measurement:

Wood moisture content:
- Measurement of all wood types moisture content in range 0% to 100%
- Board and veneer thickness range 0.5 to 40 mm
- Density range 0.3 to 1.1 t/m3
Air temperature / relative humidity:
measurement of air temperature in range 5°C up to 85°C and
relative air humidity in range 5 %RH up to 100 %RH
(optional - if the probe DSVT-03/U is delivered on customer's request)
Nondestructive wood and venner moisture meter DVD-240 is designed for quick measurement of wood moisture content in the field, by simple pressing of device on the board. It is ideal for quick measurement and comparison of wood MC in different wooden samples as well as veneer MC measurement (it can measure moisture content in very thin samples starting from 0.5 mm thickness).
Measurement with nondestructive moisture meter DVD-240 does not damage timber.
Device is delivered in plastic case with large LC display which shows all relevant data and flat keyboard for easy access to all functions and settings.
Especially designed sensor plate is installed on the back side of device. As soon as this plate is gently pressed against the surface of the wood board and the device turned on, reading of the wood moisture content will start.
For precise measurement it is necessary to perform some adjustment on the device before taking the reading such as starting the auto-calibration option and adjustment of the basic parameters related to the actual wood we would like to measure.
Measurement with portable moisture meter DVD-240 is very simple. All that it takes is to switch the meter on and wait for auto-calibration process to end (few seconds). During this process, moisture meter automatically perform a series of test-measurement in order to adjust its output according to current working condition (ambient temperature, air humidity, etc...).
After this, user must adjust parameters for the type of wood (i.e. wood density) and parameter for wood thickness. These adjustments are necessary because measured moisture content is very dependant on these settings.
It is also universal device, which can be seen when the probe DSVT-03 is fitted. In that case, device can measure air temperature/humidity in addition to wood moisture content measurement.
Main characteristics of this device is its portability since DVD-240 uses battery power supply, and can operate in the kiln or in the field. Device is equipped with built-in indication that alert the user when the battery is low.
Since this device is delivered with or without temperature probe, customer must specify which configuration wants upon ordering.
Technical Data
Power supply
Battery 9 Vdc; 90mVA max
Number of inputs
1 (optional for DSVT-03 probe)
Display
Single, 3 1/2-digit LCD, 13mm
Measurement resolution
1%
Operating conditions
T: - 10 ÷ 50°C; RH: 0 ÷ 100%
Storage
T: - 40 ÷ 85°C; RH: 5 ÷ 90%
Dimensions (WxHxD)(mm)
83 x 152 x 38
Weight
230g
Input
Temperature/
humidity
input
Type
Output taken from the probe DSVT-03
Connector
USB type A
Main characteristics
Autocalibration
YES
Measurement resolution
0.1%
MC measurement range
0 to 100% MC
Thickness range
0.5 to 40 mm
Density range
0.3 to 1.1 t/m3
Optional
Air temperature / relative humidity measurement