RVD-905A
portable moisture content meter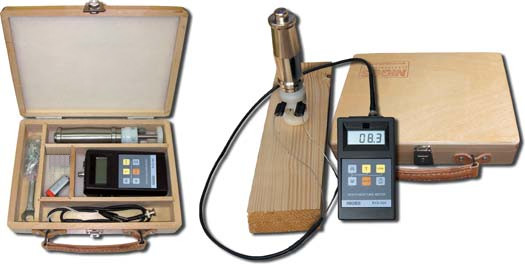 Measurement:

Moisture content:
measurement of all wood types moisture content in range 6% to 100% at the temperature in range -10°C up to 80°C (temperature compensation)
Moisture content in construction materials:
OPTIONAL - When a special probe is delivered, RVD-905A can measure moisture content in construction materials (concrete, mortar, gypsum, etc...)
Air temperature/humidity:
OPTIONAL - If the probe DSVT-05A is delivered, RVD-905A can measure temperature in range 5°C up to 85°C and relative air humidity in range 5 %RH up to 100 %RH


Device is delivered in a rigid plastic case with following content:

RVD-905A device
Hammer action electrode
Connection cable
Probe for air temperature measurement
DSVT-05A probe for air temperature/humidity measurement (OPTION)
Pair of probes for moisture content measurement in construction materials (OPTION)
Universal portable (hand held) moisture content meter RVD-905A is made for on-field wood, timber or pallets MC measurement of all wood types. It can be used as universal device for MC measurement because it can also measure:
- moisture content of saw dust when connected to VP-01 device (optional)
- moisture content of construction materials (concrete, gypsum, mortar, etc...) with special probes for concrete (optional) as well as
- air temperature and relative humidity inside the chamber when a probe DSVT-05A is delivered (optional).
Main characteristic of RVD-905A is its portability, since it is battery operated and is intended for usage in the drying chambers and on the field. Device is equipped with built-in indication that alert the user when the battery is low.
Device is very easy to operate with.
It has large LC display which shows all relevant data and flat keyboard for easy access to all functions and settings. For moisture content measurement of any wood type it is necessary to enter appropriate type of wood (one of 4 basic types according to data given in User's manual) with temperature compensation in range -10°C to 80°C. This compensation represent the temperature of wooden sample at the moment of MC measurement. Temperature compensation is not used for MC measurement of construction materials.
| | |
| --- | --- |
| | VP-01 device for sawdust moisture content measurement is sold separatelly. It is specially modified aluminium cylinder with RVD-905A mounting bracket. Sawdust in the cylinder is compressed during measurement, and RVD-905A is used to perform MC reading. Protection feature is implemented to protect device from exceeded pressure and damage. |

| | |
| --- | --- |
| | VP-02 device for sawdust moisture content measurement is sold separatelly. It is consist sawdust bowl that connects to RVD-905A with special cable. The sawdust is pressurized in bowl to allow moisture measurement. Device has protection in order to prevent excessive pressure and damage to the device. The same system also provides uniform pressure that guarantees uniform measurement. |

| | |
| --- | --- |
| | Concrete and other building materials moisture content probes are used without contact mass. it is enough to drill 2 holes in the concrete and place probes connected to RVD-905A in them. After measurement parameters are adjusted, measurement can be performed. |

| | |
| --- | --- |
| | Air temperature and relative humidity is performed when probe DSVT-05A is attached to RVD-905A. |
NOTE: Since there are several configuration and delivery options, customer must specify which configuration wants upon ordering (with or without the special probes for air temperature / humidity measurement and probes for construction materials).
Handheld MC meter RVD-905A characteristics are given in following tables:

Technical Data

Power supply

Battery 9 Vdc; 90mVA max

Display

Single, 3 1/2-digit LCD, 13mm

Measurement resolution

0.1%

Operating conditions

T: -10 ÷ 50°C; RH: 0 ÷ 100%

Storage

T: -40 ÷ 85°C; RH: 5 ÷ 90%

Dimensions (WxHxD)(mm)

80 x 160 x 40 (mm)

Weight

230g
Supported probes

Wood MC measurement

Electrodes for wood MC, 56mm, Ø2.5mm

Veneer MC measueremt

Contact electrodes for veneer measurement

Sawdust MC measurement

VP-01 for sawdust pressing and sampling

Concrete MC measurement

Electrodes for concrete MC, Ø8 x 60 (mm)

Air temperature and relative humidity
measurement

Probe DSVT-05A