Wood dryers:
Conventional wood drying kilns
Dehumidifying wood dryers
Mini (Low-cost) drying kilns
Heat pumps (Dehumidifiers)
Additional equipment
Power electric switch board

Catalogues and manuals:
Wood dryer catalogue (.pdf)
NIGOS dryers (.pdf)
User manuals
Measurement & controll equipment catalogue (.pdf)

Automatic controllers for wood drying:
MC-411R, MC-412, MC-504,
MC-600, MC-904, MC-2000, MC-3000
Automation of existent conventional kilns

Archive (obsolete products no longer produced):
(MC-100RM, MC-100R, MC-500R, MC-502R, MC-900R, MC-1000)

Wood MC meters:
Portable moisture meter RVD-905
Nondestructive moisture meter DVD-241
Nondestructive moisture meter MCD-50

Other:
Control unit for steaming chambers PD-01
ISPM-15 wood pallet sterilization unit MKS-05

In 1995 NIGOS - elektronik started to produce and assemble wood drying kilns. Intense work and constant improvement of equipment and wood drying process has led to the fact that NIGOS - elektronik is today a leading manufacturer of wood drying equipment worldwide. We can manufacture conventional, dehumidifying (condensing) and combined wood drying kilns. Numerous satisfied customers in our country as well as abroad are best proof of the quality of our products.
Today, we are able to offer kilns of various types and capacity to our customers. Depending on the customer's actual request and need for wood drying, we make slight adjustment on our standard equipment in order to provide our customers best wood drying possible. That way we can proudly say that our wood dryers are "custom built", which is something that very few manufacturers can offer to its customers. Additional convenience we provide to our customers is that all our dryers are fully automated which means that the customer receives all required technology regarding wood drying. Exceptionally long warranty period we give to our customers is another indicator of our assurance in the quality of the equipment we deliver. Warranty for the kiln equipment is 1 year (main spare parts included with delivery) and 5 years for automatic control unit that controls the drying process.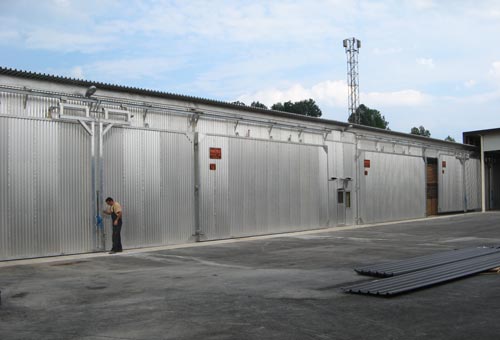 Potential buyers of our kilns can decide between dehumidifying, conventional or cheaper mini kiln, and the capacity of the timber load can vary from 8 to 120 m3. There are two ways new kiln can be built. In the first case customer can choose to build a kiln of concrete and bricks himself according to our sketches, and we will deliver only the equipment needed. Already built suitable facility can be used and adopted too. Other way is that we deliver and assemble a aluminum bearing structure kiln with walls, roof and door made of insulated aluminum coated panels with foamed polyurethane together with the necessary equipment.
If a customer already have an old conventional dryer of any capacity we can modernize and automate it for more convenient use.
All our kilns belong to "GREEN LINE" line of products. Dehumidifying dryers built by NIGOS - elektronik are completely environment friendly and all wood processing wastes are ecologically harmless to water and environment.
In case you would like to find out more detailed information about wood drying principles as well as main characteristics of or wood dryers, you can download the file wood dryers.pdf.